After my Tinker Bell canvas and my butterfly garland, I was still inspired for decorations for Bella, so I decided to run with it and keep going! I pulled out my awesome purple glitter stickers, more paper punches and scrapbooking paper, and headed out to buy a frame and another canvas!
First I decided to decorate a frame ready to hold a picture of my brother and my niece: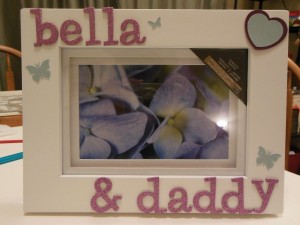 Then I decided to paint another canvas and decorate it with Bella's name, flowers and her favorite, butterflies! I used the same paints as on Tinker Bell canvas (plus some yellow this time), and a wider variety of scrapbooking paper and paper punches. After I put her name on the painted canvas, I just had fun with the flowers and butterflies!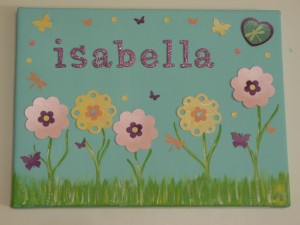 I had a great time putting these cute surprises together for Bella, and I really hope she likes all of her new decorations!!