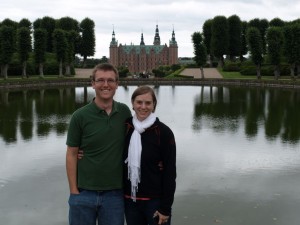 Hello! Welcome to my blog! My name is Jenna and I live in Colorado with my wonderful husband, Matt. We have two kitties, Kiki and Theo, who both have weird health problems, but they're worth the extra work!
I'm originally from Michigan, and I love to go back to visit family and friends, and to admire the beautiful Lake Michigan.  Also, Matt and I both graduated from the University of Michigan, so we have a deep love for all that is maize and blue! Even our kitties have Michigan collars. (And that just might be a reusable Michigan grocery bag that Theo is sitting on below…)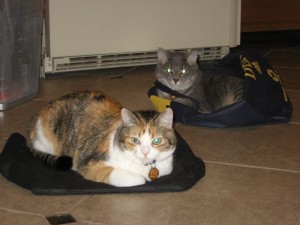 I am an interior decorator and real estate stager! I own my own business, Blythe Styles, where I provide home styling and staging services. I can work with you to help you make your home shine, whether you're planning on staying or selling!
In my spare time, I enjoy reading, decorating, cooking, scrapbooking, travelling, dancing, listening to music, eating chocolate, and drinking chai.  I like to make things beautiful in "my world" – my home and family. I love to decorate my home (and help others decorate theirs) and do crafty/DIY projects. I enjoy making delicious food, especially desserts! I try to preserve beautiful memories, and I treasure and value my friendships and my family.