I love pillows and, well, let's just say they're not Matt's favorite thing. So for several years, I've been ignoring pillows in stores and at my house – I mean, I had a few here and there… but nothing for the seasons (and I LOVE decorating for seasons and holidays) and my bed needed some serious attention… but I was letting it go. But over Christmas I fell in love with some pillows I found, and just had to do something about it. I mean, if they're in the way on the couch, just put them on the floor – that's ok with me, I can put them back! When the room is put together, pillows can make such a big difference in the look of a room, and after a few years of being pillow deprived, I was ready to make some statements with my pillows.  And Matt, in the end, hasn't really complained after all. Maybe he's just used to my decorating antics by now..? :)
And now, I must say a special thank you to my mother in law, Kristi, who has made me many pillow covers in the last few weeks. Thanks to pinterest, I had tons of ideas, and she has made all my pillow dreams come true! Thank you, thank you, thank you! You're amazing!!
Tree Pillows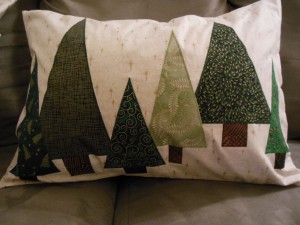 My first pillow ideas were for some Christmas tree pillows I saw on pinterest that had been for sale on etsy. I showed it to my mother in law, who was so excited for a sewing project and was eager to get started. She had already made me some wonderful Christmas things, so we decided to have the trees made out of fabric that would match my existing tree skirts, wall hangings, and table runner! And they turned out beautifully!! I love them!
Snowflake Pillows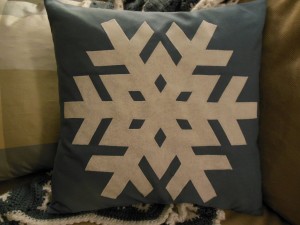 My next pinterest pillow find was a wonderful snowflake pillow (with a pattern!) from shelterness, and Kristi and I agreed I must have them to match my wonderful crocheted snowflake afghan I'd just completed! We picked out some blue fabric to match my blanket, and she got busy making the covers for me. They are perfect!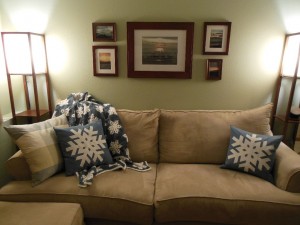 These pillows also inspired me to update the wall arrangement above my couch in my family room. I switched out our large picture of a beautiful and colorful sunset over Lake Michigan for a slightly smaller one of a sunset over a frozen Lake Michigan. The frozen lake goes so well with my snowflakes! And when spring arrives, I'll put my other frame back up to bring the colors back!
 Bedroom Pillows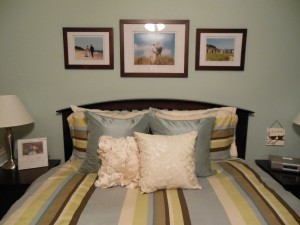 Because of Matt's dislike of pillows, we never bought decorative pillows for our bed… until just recently. I would make our bed, and all we had were the pillow shams that matched our duvet cover. It was lonely. Our set has long been discontinued, so I had to find my own things to match. I searched all over town, and found the perfect pillows at Pier 1, where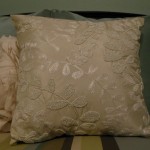 they even helped me match colors! I was so thrilled with what I found – especially because two of them happened to be on clearance and I had a coupon! What a deal! And now my bed is complete and I am happy. The one with the beading on it is so beautiful. Love it!
Valentine's Day Pillows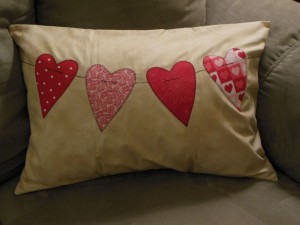 Once I got started finding pillow ideas, I just couldn't stop… and since Kristi was happy to sew for me, I put in a request for some Valentine's day pillows too! I found one idea on pinterest, and the other two from searching on google. Thanks to the following blogs and sites for their great ideas: A Crafty House, U create, and mypillowhead.com!
The string of hearts pillow is my favorite – it's just so, so cute! But the heart and love pillows are also adorable – and the set of three just completed my Valentine's day decorations perfectly!
Saint Patrick's Day Pillow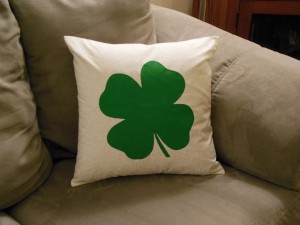 That's right. I decorate for St. Patty's day too – after all who doesn't love green things, Irish music & dancing, Guinness, and delicious Irish food? So why not have some shamrocks and little leprechauns too? Anyway, I found this cute pillow on zazzle, and asked Kristi to reverse the colors to match my furniture better  and her version for me is perfect!
Bird Pillows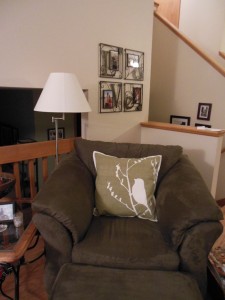 I love all little bird things… I just can't resist them. So when I found some adorable bird pillows at Home Goods last month, I had to buy them! They are so cute! When winter is over and I put away my snowflakes, my bird pillows will come out to live with us for the spring and summer. I'm looking forward to their visit already! (also, note the different sunset photo in the picture below!)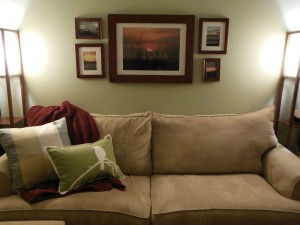 My regular living room pillows & my cat, Kiki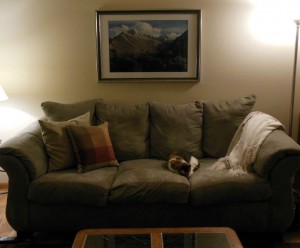 This is the way my living room couch usually looks – except now, these pillows have covers for several holidays! It's so exciting!
I have been thinking about fall pillows and have some ideas in mind… but nothing definite yet. There are so many ideas out there! But luckily I have some time to think about it! And a wonderful and talented mother in law who's happy to indulge in my pillow love. :)