My brother and my niece just moved into a new house, so I thought my niece needed a few new things to spruce up her new room! My next few posts will be about my various projects for Bella. She's really into Tinker Bell, butterflies, and fairies, so I had a lot of fun putting things together for her…! And my first idea was to crochet some butterfly garland for her room!
First I had to find myself a butterfly pattern. I wanted something easy, and thanks for the wonderful bloggers at Little Birdie Secrets, I found this amazing pattern for cute and easy crochet butterflies!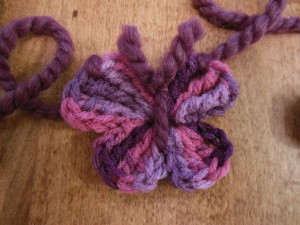 So I got my stuff together (some variegated purple and pink yarn, and a crochet hook) and whipped up my butterflies in no time! I made 7 butterflies for my garland.
Then I used a darker, thicker yarn to tie them all together! I tied each one a little differently, to make them look a little random, like they were flying around. Some are tied with one wing, others with both.
Here is the completed garland – hanging on my mantel… I'm sure it will be much cuter in her bedroom! I can't wait to see how much my niece loves it!