So… it's been a while since I've blogged about anything! Let's just say that between starting my own business, Blythe Styles, buying a new house, selling our old one, moving, and spending a month in Europe, I've had a fairly busy 2014! But now that things are settling down, it's time I report on some of our projects from this year! First up are some thoughts on our popcorn ceiling removal.
The house we bought this year had popcorn ceilings. If you don't know what this is, you are lucky! But assuming you know what popcorn ceilings are, you will be glad to know that we had them removed! Here are before/during/after pictures of our entry way: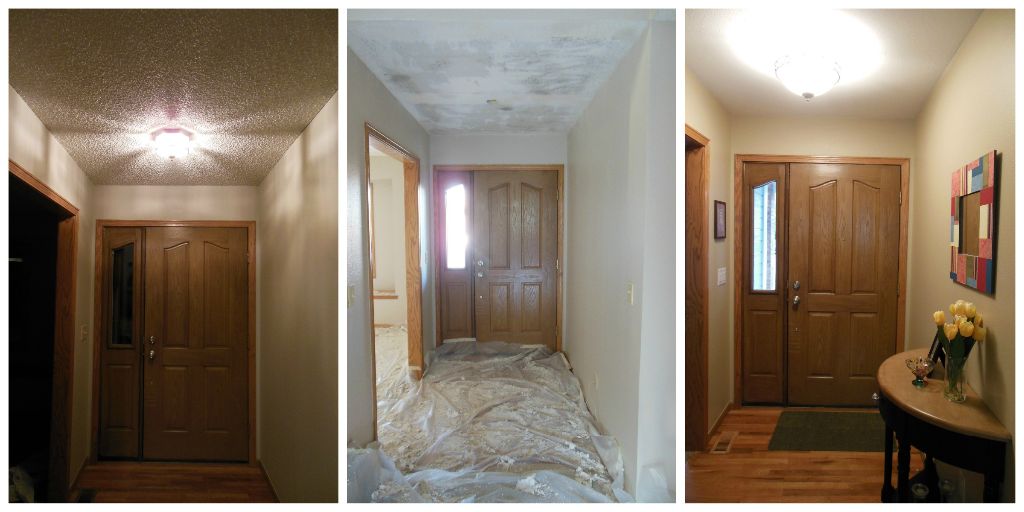 Before: In the picture on the left, you can see the crazy amount of popcorn texture that the ceilings in the house originally had. I was so anxious to get rid of them!
During: In the center picture, you can see the texture has been scraped off. Next it needed to be re-textured (a light orange peel) and painted.
After: In the picture on the right, you can see the finished product (and a new light fixture). The ceiling is so smooth now, and instead of sucking light out of the space, it spreads the light nicely. :-)
We had read about popcorn removal online and decided that this was a project we wanted to hire out. Basically you need to get the texture wet, scrape it off, re-texture the ceiling, and paint it. Matt and I are big "do it yourselfers", but this project was going to be really messy and time consuming. So we hired it out, and I'm SO glad we did. In the end, our house now feels cleaner and lighter, and we are so happy with our "new" ceilings. It is the best thing we've done for the house so far.
For anyone considering removing popcorn ceilings, here are some of our thoughts on the project:
Popcorn ceiling removal is MESSY. I am not kidding. Be prepared for a big mess. On the right is a picture of some of the popcorn on the floor after it was scraped off. Now imagine this all over. And on your shoes. And everywhere you walk in those shoes for the next week. Our entire house was covered in drywall dust. The guys did a fairly good job of taping things off and using plastic sheets to cover the floors, but it still got everywhere. If at all possible, do this type of ceiling work in a vacant home. If that's not possible, I would suggest vacating affected spaces as much as possible, covering what's left really, really well, and taping off unaffected spaces as best as you can. It is so messy.
Hire it out and understand the quotes. I was so horrified at the popcorn ceilings that they were the first item on our list of things to change after closing on the house. We wanted the ceiling work to be done by the time we moved in (that gave us 3 weeks). We'd already agreed to hire it out, so we got a few quotes as soon as possible and selected the team. We thought we had done our homework and knew what we were getting into, but we didn't. We realized too late into the project that this particular team's quote didn't include painting. Lesson learned. Always make sure you know exactly what the quote covers. We decided we'd already spent enough money on the ceilings, so we ended up having to paint the ceilings ourselves, and it was a LOT of work. We spent HOURS painting ceilings at this house. We were really disappointed and felt pretty stupid… So know what the team is going to do. We assumed too much.
If you end up the painting ceilings like we did, definitely get an extension for your roller or a paint sprayer. We bought a paint sprayer for a different project after the ceilings were already done, and Matt was kicking himself for not buying one sooner because it could have saved us a bunch of time. If you don't want to splurge on a paint sprayer, at least get an extension pole for your rollers. This was a suggestion from my dad, and it was fantastic. We loved having the extension on the roller. (That's me on the right with my roller and extension pole! Don't you love the scaffolding too? We're awesome.) Oh, and wear eye protection too. Matt always wears glasses so he was already covered (pun intended), but I usually wear contacts. I learned the hard way that painting ceilings WILL get paint in your eyes. And it hurts. So I wore my awesome blue safety glasses to protect my eyes after that first (painful) day.
If you can, see samples of their work. We were in such a rush to get the ceilings fixed before we had to move in, that we selected our team really quickly. Probably too quickly. You learned above that the guys we picked didn't paint… We also didn't ask to see samples, and although our guys did a pretty good job, they did make a few mistakes. There are a few places where they gouged our ceilings a little bit during the scraping. Matt and I are probably the only ones who will ever notice those spots (they aren't horrible or anything), but I still wish they weren't there. If we'd been able to see samples of their work, we might have picked a different team.
In the end though, we are so happy with our ceilings now. They look great and they make the whole house feel so much better. We are so, so glad that we had the ceilings worked on and that we did the work before we moved in!