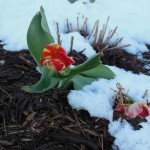 I have been anxiously awaiting the arrival of spring here in Colorado… Our last few weeks have been filled with snow, and these late snows have killed many of my early blooming flowers. I only had one group of tulips bloom this year (there were only 3 flowers!) and a snow last week hurt those. :(  My flowering trees are finally starting to bloom, but the snow last week hurt many of those flowers too. And the birds are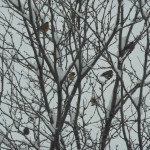 confused. During a snowstorm a few weeks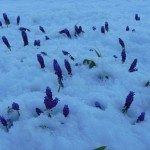 ago there were a lot of birds sitting in my tree talking to each other loudly – it sounded like they were complaining about the weather…
So, I've been waiting to see when spring will finally arrive, and in the meantime, I decided to make a spring sign, and maybe that will remind the weather that it is supposed to be springtime! I'd like some sunshine, rain, and warmer temperatures, please! My flowers want to grow and bloom!

Spring Sign
I started with a large thin piece of wood, wooden alphabet letters, and a small wooden bird house from Joann Fabrics.
Matt kindly cut the large wood piece to size for me. :) Then I sanded all the wood pieces.
I found some scrapbook paper that I wanted to use on the sign. My paper wasn't wide enough to cover the whole piece of wood, so I decided to cut out the flowers from the paper to put on my sign.
Then I painted the large wood piece (blue with a little ivory smeared on it!) and the letters (green). I also painted the bird house (green and ivory). It took a few coats to cover everything well.
I used scrapbook adhesive and Elmer's glue to stick the cut out paper onto the painted wood.
Then I used some hot glue (until I ran out) and Elmer's glue to stick the letters onto the sign!
I also used a small flower paper punch to make a few flowers to put on the letters and the bird house!
I put books on top of the sign for about half an hour while the glue set. Then it was finished and ready to sit on my mantel!