Matt and I decided to stay in for Valentine's Day this year! We wanted to have a quiet night at home to make dinner together, exchange a few gifts, hang out, and eat some yummy dessert!
Our Dinner Menu
Skillet Lasagna: We decided to try a new recipe for dinner, a skillet lasagna that I found on pinterest! It was pretty easy to make and absolutely delicious. We LOVED it. We will be making it again soon, I'm sure!
Salad with pecans and craisins: This is a salad we make once in a while and really enjoy. We like to make it with romaine lettuce, craisins, toasted or candied pecans (also good with hazelnuts), and poppyseed or strawberry balsamic dressing. Simple, but delicious!
Jello parfaits: I found a pin of this jello parfait recipe on pinterest, and I just had to try it. It was so pretty! Mine didn't turn out as "clean" looking as the ones in the recipe, but they were still quite pretty and very delicious!
Wine! I enjoyed some sauvignon blanc, and Matt enjoyed some chianti.
My Nerdy Valentine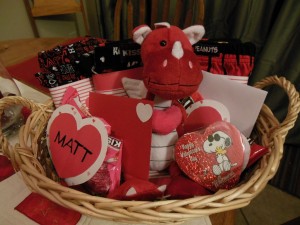 After dinner, we exchanged our gifts. We don't always exchange gifts on Valentine's Day, but Matt had been working on a surprise for me since Christmas, so I had to do something for him too! I decided to give him some fun love themed boxers, so I went shopping… one turned out to have Hershey kisses on it, and another Snoopy from Peanuts, so I decided to throw some candy in there too to go along with the boxers.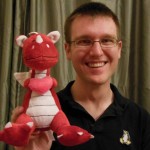 And who doesn't need a dragon holding a heart?? So, I collected my goodies and put together a cute basket for Matt.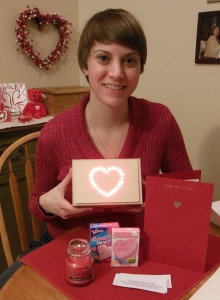 Meanwhile, back at his desk and garage work table, Matt had been working madly on my surprise gift – he designed an electronic puzzle box for me! Once you turn it on and select the difficulty level, you have to move the box in the correct sequence of rotations in order for it to open up. Depending on the level of difficulty you select, the box gives you different types of feedback and assistance. Inside the box he'd hidden a candle, some candies, and some coupons for things like a massage, making me dinner, etc. (These were also quite funny, since he put fine text on all of them with the requirements and limits of each coupon!) Anyway, for him the real fun was watching me figure out the puzzle! He's blogged all about how he made it… but for those of us who are less technical and don't understand anything he blogs about, here's a quick video he made about how it works:
Dessert!
For dessert later in the evening, we enjoyed a heart shaped strawberry cheesecake that we picked up at our grocery store. Super easy, cute, and delicious! And I served our slices on my pretty Valentine's Day plates!