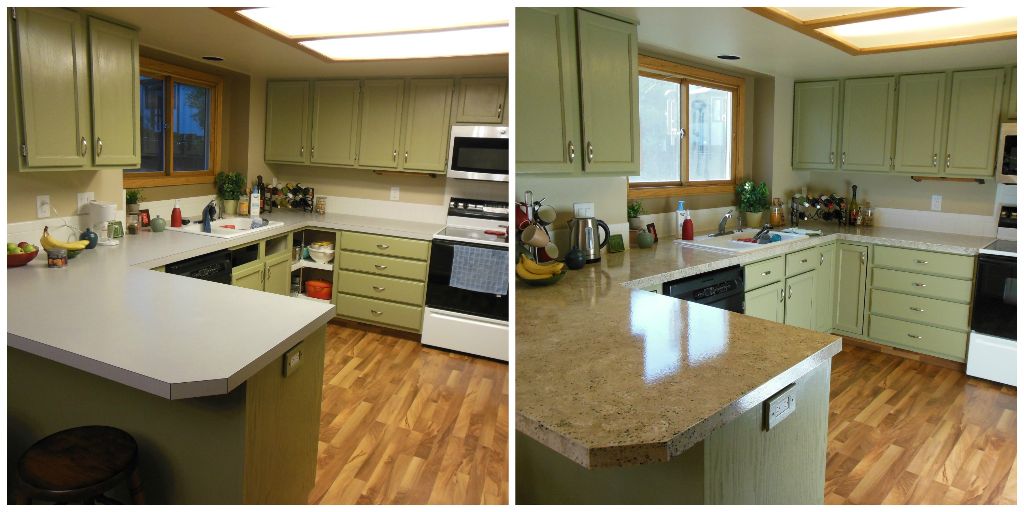 After we painted our cabinets, it was time to update our grey, laminate countertops. In the future we want to completely replace them, but we aren't ready to spend that much money (so many other projects to do at the house!), so in the meantime we decided to try a DIY countertop resurfacing kit. Matt and I both agreed that these had the potential to go horribly wrong… but we did some research and shopped around, and decided to give one a go! We settled on a kit by Giani Granite: the price was right, they had it in stock at Ace Hardware, and we could get it done in a weekend. The kit we used is also available on Amazon.
The kit came with pretty much everything we needed: paint, roller, foam brush, etc., and even included a little DVD about how to do it right. This was helpful to watch! Before we started painting the countertop we had to clean it really well. We used those SOS steel wool pads that have the weird blue soap in them. Once that was all cleaned up we started painting! Our base coat/primer was black. After that had dried overnight we sponged on the three colors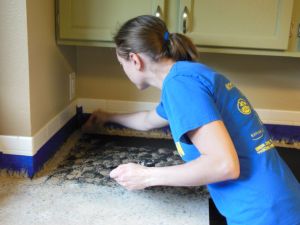 from our kit, two shades of brown and a white. When that was done drying, we gave it two coats of the clear coat. It was very quick and we spent the most time waiting for the paint to dry in between coats!
We are really happy with how they turned out! We love how they look (the color is such an improvement!) and we'll just have to see how they hold up… in the end we want to replace them anyway, so even if they just last for a year or two, then it was worth it! The new surface is so much nicer to look at than the old grey!